Meet the Oasis Chiropractic Team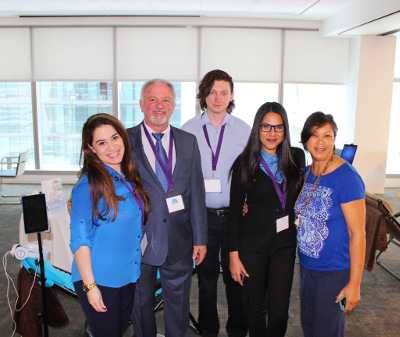 ---
Meet our Chiropractic Assistant/Office Manager
Maidell
Maidell has personally worked in chiropractic offices and with chiropractors for over 17 years. She has worked hands-on in the chiropractic field and knows the ins and outs of what it takes to run a successful practice. She's been the Office Manager and Chiropractic Assistant at Oasis Chiropractic Center since 2009. Maidell's experience and commitment to the highest standards of customer service make her a wonderful resource for our staff and patients alike. She is also a certified Auricular Therapist, Physical Therapy Assistant, Certified Professional Medical Biller, Interior Stylist, and an accredited Legal Secretary.
Maidell has been getting regularly adjusted since she was a teenager. Maidell say's "I can't imagine my life without chiropractic. Every time I get off the table from an adjustment I'm happy and I know that I've just done something really great for myself, and at that moment I am the best me I can be."
Outside of work, Maidell loves to live a busy life. Her passion is traveling the world and learning the cultures of others. She also does Interior Decor in her free time. Her favorite activities include horseback riding, kayaking, going to the movies, dining out, and volunteering (only to name a few).
You can always count on being greeted by Maidell with an enthusiastic and friendly smile on your visit to our office.
---
Meet our Massage Therapist
Jacqui
Jacqui has been a part of our team for almost 20 years. Jacqui studied Massage Therapy at the Florida College of Natural Health. She has been a massage therapist for over 23 years. She continually strives to expand her knowledge and skills through continuing education courses. She has certifications in Reflexology, Trager, Aromatherapy, Lymphatic Drainage, Chinese Cupping techniques and Qi Gong.
Jacqui is very passionate about the field of Massage Therapy. She truly trusts in the body's innate ability to heal naturally. She enjoys educating patients about the benefits of Massage Therapy and Chiropractic Care as an optimal combination for wellness. Jacqui works with a variety of clients and her massage style is one of subtle intensity that allows the body to de-stress, promotes relaxation, reduces muscular tension and leaves you with an overall sense of well-being.
Jacqui Say's "Each client is unique, just as the touch of each therapist is different. Knowing this I keep an open mind and listen to the needs of each individual patient. I use my skilled hands and intuitive observations to give your body what it needs most. Whatever your needs may be my goal is to restore your natural balance."
Outside of work, Jacqui loves to spend time outdoors and bike ride. She also enjoys dancing and arts and crafts.
 You can always count on Jacqui's expert hands for a wonderful deep tissue massage to help "melt" away your stress and make you feel great.
______________________________________________________________________________
Meet our Craniosacral Therapist
Aaron
Aaron began his massage career in 2013 after graduating from Educating Hands School of Massage. He is a State of Florida Licensed Massage Therapist and, also graduated from Florida Gulf Coast University with a degree in Criminal Forensic Studies and Criminal Justice. During his time in massage school he was introduced to Craniosacral Therapy and found his "true calling".
He began to specialize in Craniosacral Therapy through the Upledger Institute. He continues to take advanced classes in CranioSacral Therapy, including applications for using CST for Somato-Emotional Release. He believes that learning is a life long endeavor and is constantly seeking to expand his education.
Aaron has been a lifetime chiropractic patient; he has been getting regularly adjusted since he was born. Aaron say's "I don't get adjusted because I have a sore back or stiff neck, or any other symptoms. I get adjusted because it's a great idea, because it makes sense. I feel better, I sleep better, I perform better and I just enjoy life more when I get adjusted regularly."
Outside of work, Aaron loves to practice Vinyasa yoga and he enjoys reading, movies and morning jogs.
From your first contact with Aaron, you will notice his enthusiasm for service to his patients. His passion is in the sincere interest of his patient's well being and it rarely goes unnoticed.