Oasis Chiropractic Center Testimonials
Our patients are at the heart of everything we do.
Amazing things happen at Oasis Chiropractic Center every single day.
We not only change lives but we give people their lives back.
No one can explain the benefits of Oasis Chiropractic Center more effectively than our patients.
Our patients have been kind enough to share some of their stories and as you can see in the videos and read in the written testimonials the chiropractic care offered by Dr. Starkman and his team assists people with a variety of ailments. From back and neck pain through to migraines, and accident recovery, there seems to be no limit to the conditions that can respond to chiropractic care.
---
Patient Video Testimonials
---
I feel like a new person, Thank you Dr. Starkman :)
---
Patient Hand Written Testimonials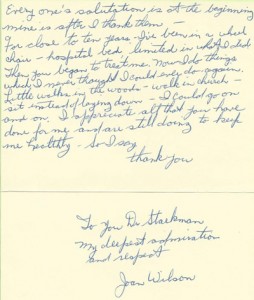 Everyone's salutation is at the beginning, mine is after I thank them –
For close to ten years I've been in a wheel chair – hospital bed, limited in what I did. Then you began to treat me. Now I do things which I never thought I could ever do again. Little walks in the woods – walk in church – sit instead of laying down – I could go on and one. I appreciate all that you have done for me and are still doing to keep me healthy. So I say thank you.
To you Dr. Starkman my deepest admiration and respect,
Joan Wilson
---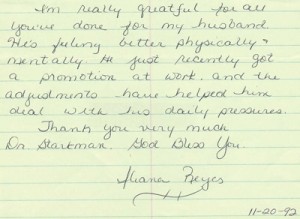 I'm really grateful for all you've done for my husband.  He's feeling better physically and mentally.  He just recently got a promotion at work and the adjustments have helped him deal with this daily pressures.
Thank you very much, Dr. Starkman.  God Bless You.
Mrs. Reyes
---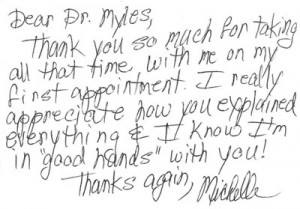 Dear Dr. Myles,
Thank you so much for taking all that time with me on my first appointment. I really appreciate how you explained everything and I know I'm in "good hands" with you.
Thanks again,
Michelle
---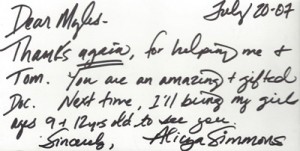 Dear Myles,
Thanks again, for helping me and Tom. You are an amazing and gifted Doc. Next time, I'll bring my girls ages 9 and 12 years old to see you.
Sincerely,
Alicya Simmons
---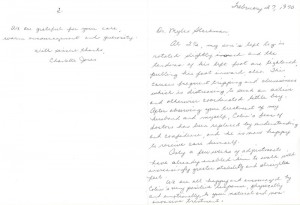 Dr. Myles Starkman,
At 2 1/2, my son's left leg is rotated slightly inward and the tendons of this left foot are tightened, pulling his foot inward also. This causes frequent tripping and clumsiness which is distressing to such an active and otherwise coordinated little boy. After observing your treatment of my husband and myself, Colin's fear of doctors has been replaced by understanding and confidence, and he is now happy to receive care himself.
Only a few weeks of adjustments have already enabled him to walk with increasingly grater stability and straighter feet.
We are all happy and encouraged by Colin's very positive response, physically and emotionally, to your natural and noninvasive treatment.
We are grateful for your care, warm encouragement and generosity.
With sincere thanks,
Charlotte Jones
---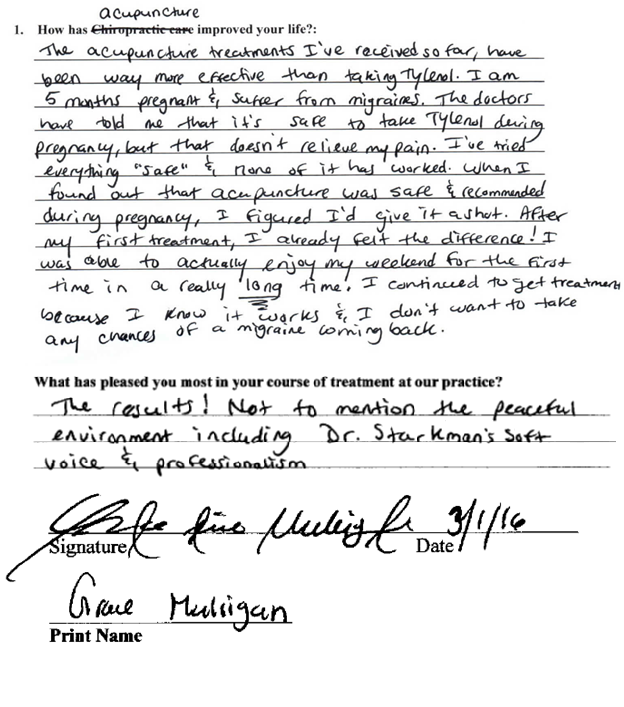 How has Acupuncture improved your life?
The Acupuncture treatments I've received so far have been way more effective than taking Tylenol. I am 5 months pregnant & suffer from migraines. The doctors have told me that it's safe to take Tylenol during Pregnancy, but that doesn't relive my pain. I've tried everything "safe" and none of it has worked. When I found out that acupuncture was safe and recommended during pregnancy, I figured I'd give it a shot. After my first treatment, I already felt the difference! I was able to actually enjoy my weekend for the first time in a really long time. I continued to get treatments because I know it works & I don't want to take any chances of a migraine coming back.
What has pleased you most in your course of treatment at our practice?
The results, not to mention the peaceful environment including Dr. Starkman's soft voice and professionalism.
Grace Mulligan
---
Patient Testimonials
It is very discouraging as a nurse to find that I have increasing difficulty trusting a physician with my health and wellbeing. In the 20 years I have been treated by Dr. Starkman, my trust in him as a practitioner has steadily increased. I have recommended Dr. Starkman to acquaintances, friends and family who have been extremely satisfied with the delivery of his care as well as very impressed with his knowledge base. Thank you Dr. Starkman for being such a wonderful HEALER!
-Sara Fernandez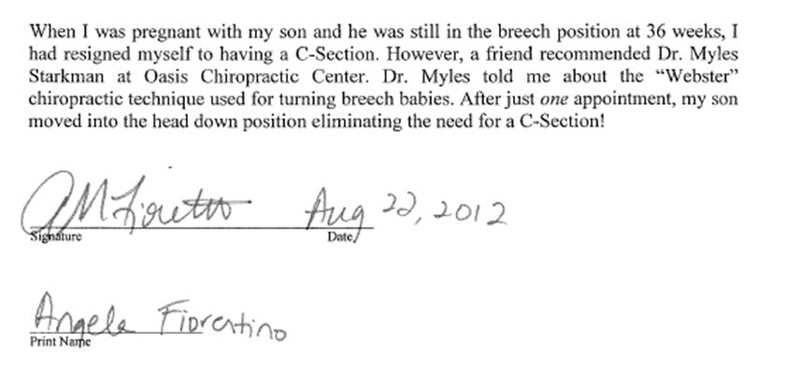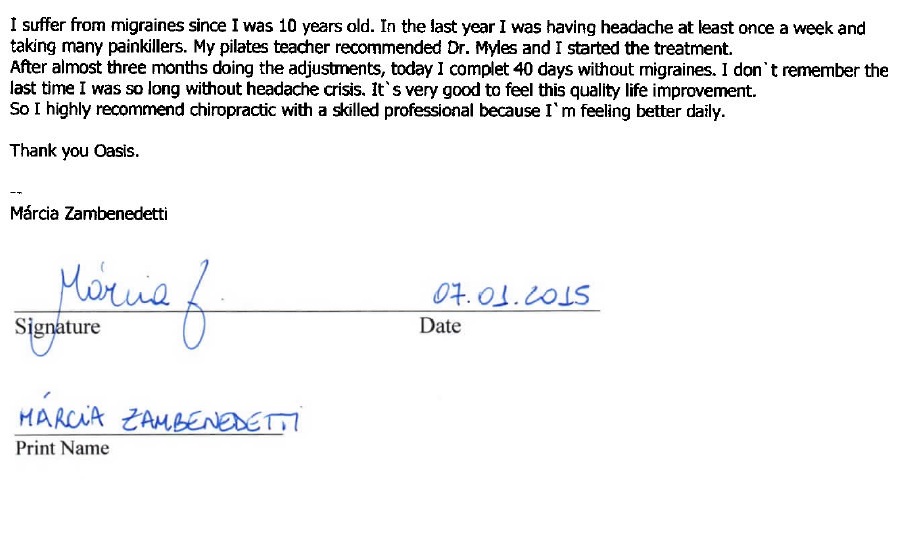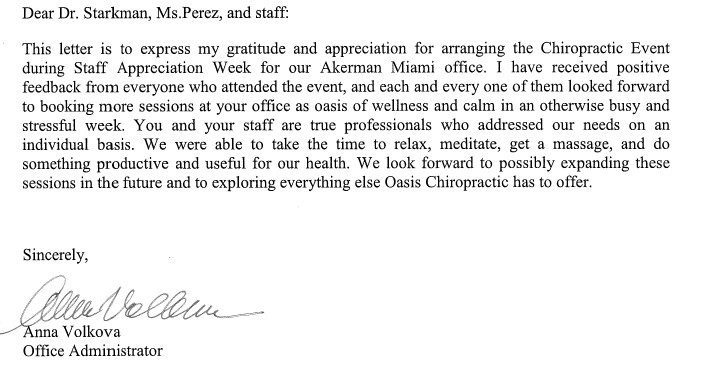 ---
Contact our office to begin your own journey today.